new stock due on 15/5/20
STANDARDIZED FEATURES FOR EASY AND ACCESSIBLE 3D PRINTING
To ensure easy, accessible 3D printing, the MakerBot Replicator+ comes with the Smart Extruder+ and all the standard features of its predecessor. A few of those features include an LCD display, an on-board camera, as well as USB, Wi-Fi, and Ethernet connectivity.
ENGINEERED AND TESTED FOR GREATER RELIABILITY
The MakerBot Replicator+ prints 30% faster than its predecessor and offers a 25% larger build volume. For greater reliability and precision, it features improved hardware, like a redesigned gantry and z-stage.
To ensure consistent performance, our new 3D printers and their subsystems were re-engineered and rigorously tested for 380,000+ hours across multiple facilities.
FLEX BUILD PLATE WITH GRIP BUILD SURFACE
With the new Grip Surface, prints adhere better, resulting in reduced warping and curling. Prints are also easier to remove with the new bendable Flex Build Plate. The built plate is also factory-leveled so your Replicator+ is ready to go right out of the box.
INCLUDES THE MAKERBOT SMART EXTRUDER+
Double the warranty of its predecessor, the Smart Extruder+ is a culmination of product design and 160,000+ hours of rigorous testing that delivers dependable, consistent performance with superior results using MakerBot PLA Filament.
Top Tips for Replicator+:
Print Technology

Fused Deposition Modeling

Build Volume

295mm x 195mm x 165mm/11.6in x 7.6in x 6.5in - 573 in3 [9492 cm3]

Layer Resolution

100 Microns / 0.0039"

Filament Diameter

1.75mm / 0.069"

Filament Compatibility

Makerbot PLA Filament Small Spool 0.9kg / 2.0lb

Nozzle Diameter

0.015 in [0.4 mm]

Ambient Operating Temperature

15-26°C / 60-78°F

Storage Temperature

0-38°C / 32-100°F

Product Dimensions

295mm x 195mm x 165mm/11.6in x 7.6in x 6.5in


Shipping Box

610mm x 570mm x 450mm

Shipping Weight

18.3 kg

Construction

Polycarbonate ABS with powder-coated steel reinforcement

Software Bundle

Makerbot Desktop

Supported File Types

(.makerbot)(.stl)(.ipt, .iam)
(.sldprt, .sldasm)(.iges, .igs)(.step, .stp)
(.catpart, .catproduct)(.obj) (.prt)
(.par, .asm)(.prt, .prt., .asm, .asm.)(.wrl)
(.x_t, .x_b)
POWER REQU

Operating Systems

Mac Os X 10.9+
Windows 7, 10

Power Requirements

100–240VAC; 0.75-0.41A; 50–60 HZ; 100W

Connectivity

USB, Wi-Fi, and Ethernet connectivity

Camera Resolution

320 X 240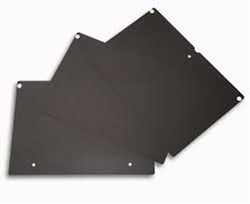 ---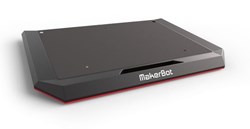 ---
---
---
---
---
---
---
---
---
---

MakerBot Print - 3D Printing Software & Applications
£0.00
more details
---